I-Land Residences, Cloverleaf
I-Land Residences, Cloverleaf
A PLACE FOR BUSY INDIVIDUALS WHO WANT TO WORRY LESS
Situated along one of Metro Manila's major thoroughfares, I-Land Residences, Cloverleaf offers a unique solution that suits any individual's busy lifestyle.
The 40-story condo aims to provide dwellers direct access to major transport systems, which gives them the convenience to go to nearby places of interest. Its proximity to shopping malls, groceries, schools, and hospitals makes this project the best choice for busy folks who want to worry less.

AN ECO-FRIENDLY CONDO ALONG EDSA
ISOC Land's projects are designed to be eco-friendly that allows its dwellers to experience a more sustainable urban living. Each vertical is carefully designed to make use of natural resources such as light, ventilation, to have an ample green footprint and efficient water systems.
I-Land Residences, Cloverleaf is ecologically and carefully planned to blend with the urban landscape while minimizing the adverse effects of urbanization. This makes the living experience more conducive for city dwellers. Given the structures' sustainable design, these units are built to last a lifetime and provide homes for future generations.

BUILDING QUALITY HOMES FOR CONSUMERS
In designing I-Land Residences, Cloverleaf, ISOC Land has meticulously thought of innovative and sustainable solutions that not only meet the buyers' basic needs but also surpass their expectations.
Amid the demands that come with modern living, I-Land Cloverleaf is committed to building quality homes that offer value for money, comfort, and dependability. Now, the hardworking Filipinos can have a taste of what quality living means--a taste of the life they truly deserve.
Features and Amenities
Adult Pool
Kiddie Pool
Function Halls
Mail Room
location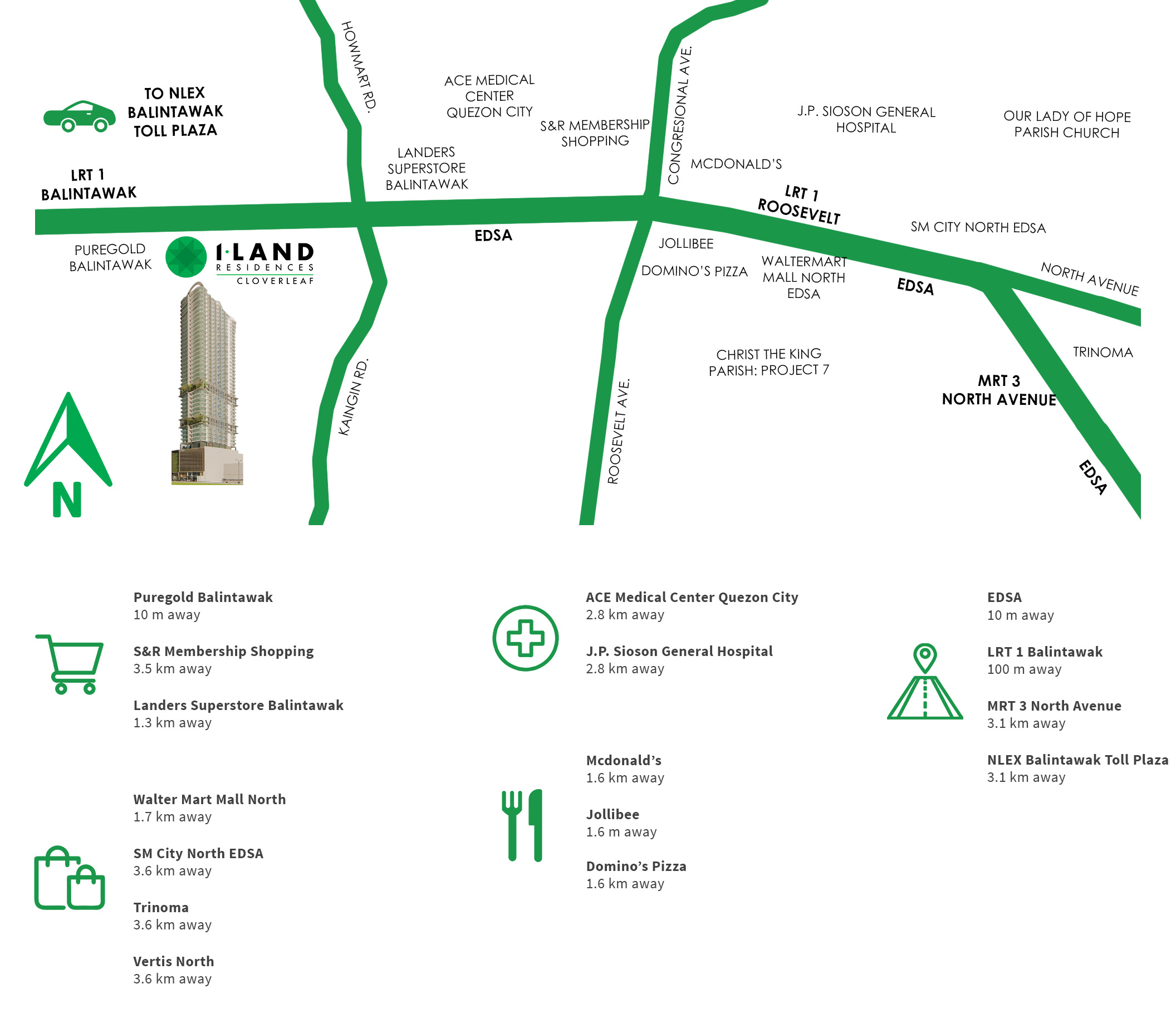 Certifications
Working towards becoming LEED certified.